Champions/Invincibles!
Filed: Monday, 25th February 2019
By: Staff Writer
Thundersley Rovers Under 12s have won the S&D Division C title - without losing a single game.
The Thundersley Common-based side ended their 2018/19 league campaign last weekend having secured ten wins and two draws* to take the title from closest rivals Great Wakering Colts, whose only defeat came in a home encounter with Rovers (that TRSC won 2-0) back in January.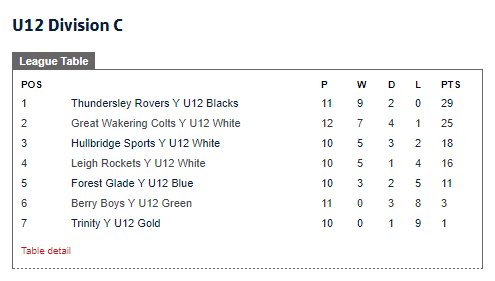 And with the Under 12s already through to the semi finals of the Vase Trophy and about to commence their Spring Shield campaign, hopes are high that the team can add more silverware before the end of the season.
Rovers Chairman and Under 12s manager Graeme Howlett said: "We are immensely proud of the team's achievement this season. They have performed exceptionally well and are a credit to both Thundersley and Castle Point.
"We are especially delighted as this represents Thundersley Rovers' first league title since entirely revamping the Club's Academy seven years ago; naturally we hope that many more trophies will follow in due course!"
The Under 12s' only defeat in the entire campaign so far came in the quarter finals of the League Cup, when they were beaten 3-1 by Leighwood Falcons having already disposed of two Premier League teams and another from Division B.
This year's success means that the team should be playing in the Southend & Ditrict League's Division B next season, when they move from nine to 11-a-side format as Under 13s.
As a result we will be seeking one or two players to boost what is an already talented squad; if you are interested in joining a winning team then please contact
info@thundersleyrovers.co.uk
for more information.
* The table above lists only 11 fixtures instead of the full programme of 12 as our away match at bottom club Trinity Gold in January was abandoned in the closing stages of the game, whilst Rovers were leading 5-0.
How the League was won
2018:
Rovers 4-1 Hullbridge Sports White
Rovers 2-0 Trinity Gold
Berry Boys Green 1-3 Rovers
Rovers 6-1 Forest Glade Blue
Rovers 1-1 Great Wakering Colts White
Hullbridge Sports White 0-0 Rovers
2019:
Trinity Gold 0-5 Rovers*
Rovers 6-1 Berry Boys Green
Forest Glade Blue 1-6 Rovers
Great Wakering Colts White 0-2 Rovers
Rovers 3-1 Leigh Rockets White
Leigh Rockets White 2-3 Rovers
* Match abandoned in the closing stages.
Related News
Under 12s divisions confirmed
[28th Jun 2019]
Promotion for Under 13s
[27th Jun 2019]
Rovers are treble winners!
[19th May 2019]
Champions/Invincibles!
[25th Feb 2019]
Grazie, Graham!
[4th Feb 2019]
Happy New Year!
[31st Jan 2019]
Rovers mark Remembrance Sunday
[11th Nov 2018]
Let battle commence!
[14th Sep 2018]
2018/19 Club roster
[19th Jul 2018]
AGM notice
[3rd May 2018]