Rovers are treble winners!
Filed: Sunday, 19th May 2019
By: Staff Writer
Congratulations to our Under 12s for winning an unprecedented treble of trophies this season!
The squad, managed by Graeme Howlett and Steve Whiteley secured the impressive haul with a 2-1 win at Cupid's Country Club against Great Wakering Colts to follow their recent League Vase success and capture of the Southend & District Division C title.


The new invincibles!
Today's Final was won courtesy of goals from winger Tom Baker and leading goalscorer Jake Cooke, who took his tally for the season to 32 with what proved to be the winning goal this morning.
Altough our hosts managed to grab a second half consolation effort Rovers managed to hold on to their slender advantage in order to secure their third trophy of an unforgettable campaign.
The Under 12s managed a total of 21 wins from their 24 fixtures this season, drawing twice and losing just once - in the quarter final of the League Cup. They managed to score an impressive 84 goals during the season, whilst conceding just 18.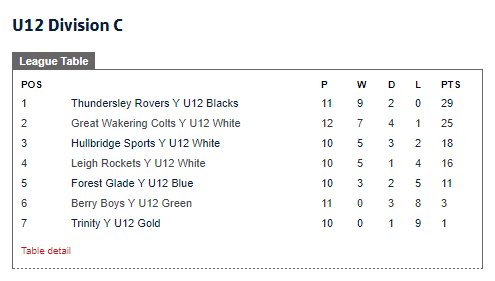 Final Division C table
How the Cup was won
Qualifying Group B:
Rovers 5-0 Ecko Whitecaps
Forest Glade 1-2 Rovers
Leigh Rockets P-P Rovers
Runwell Sports 1-6 Rovers
Rovers P-P Hullbridge Sports
Semi Final: Rovers 3-0 Trinity Red
Final: Gt Wakering 1-2 Rovers
Related News
Under 12s divisions confirmed
[28th Jun 2019]
Promotion for Under 13s
[27th Jun 2019]
Rovers are treble winners!
[19th May 2019]
Champions/Invincibles!
[25th Feb 2019]
Grazie, Graham!
[4th Feb 2019]
Happy New Year!
[31st Jan 2019]
Rovers mark Remembrance Sunday
[11th Nov 2018]
Let battle commence!
[14th Sep 2018]
2018/19 Club roster
[19th Jul 2018]
AGM notice
[3rd May 2018]